30-11--0001
2018年第三季MKPI行業積效評核指標

最新一季MKPI行業積效評核指標公佈!MKPI (MSHK Key Performance Index) 由MPEG (HK) Limited旗下神秘顧客評核服務供應商MSHK開發,目的是為各企業訂立行業服務指標。
MKPI 餐飲業整體表現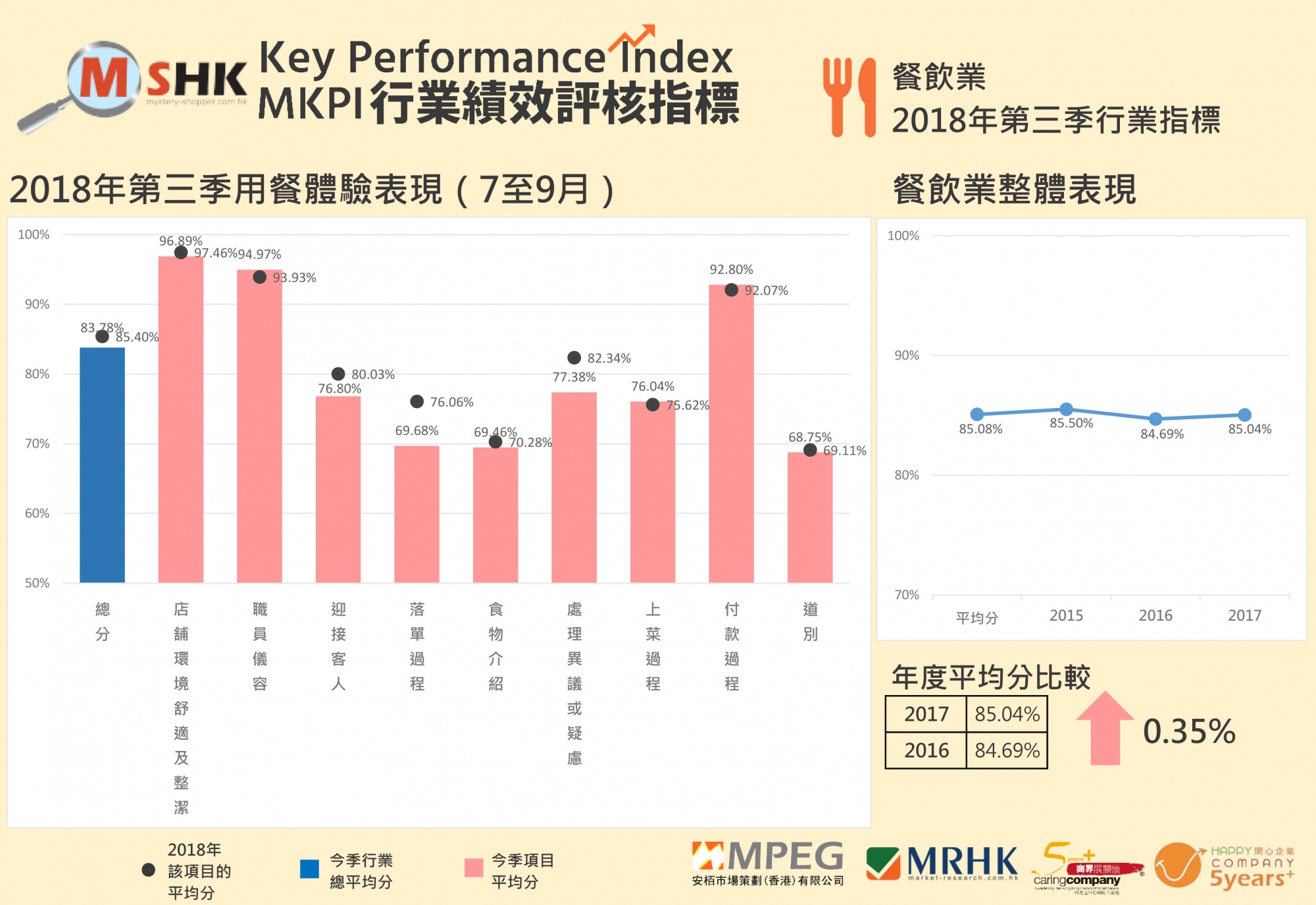 MKPI 零售業整體表現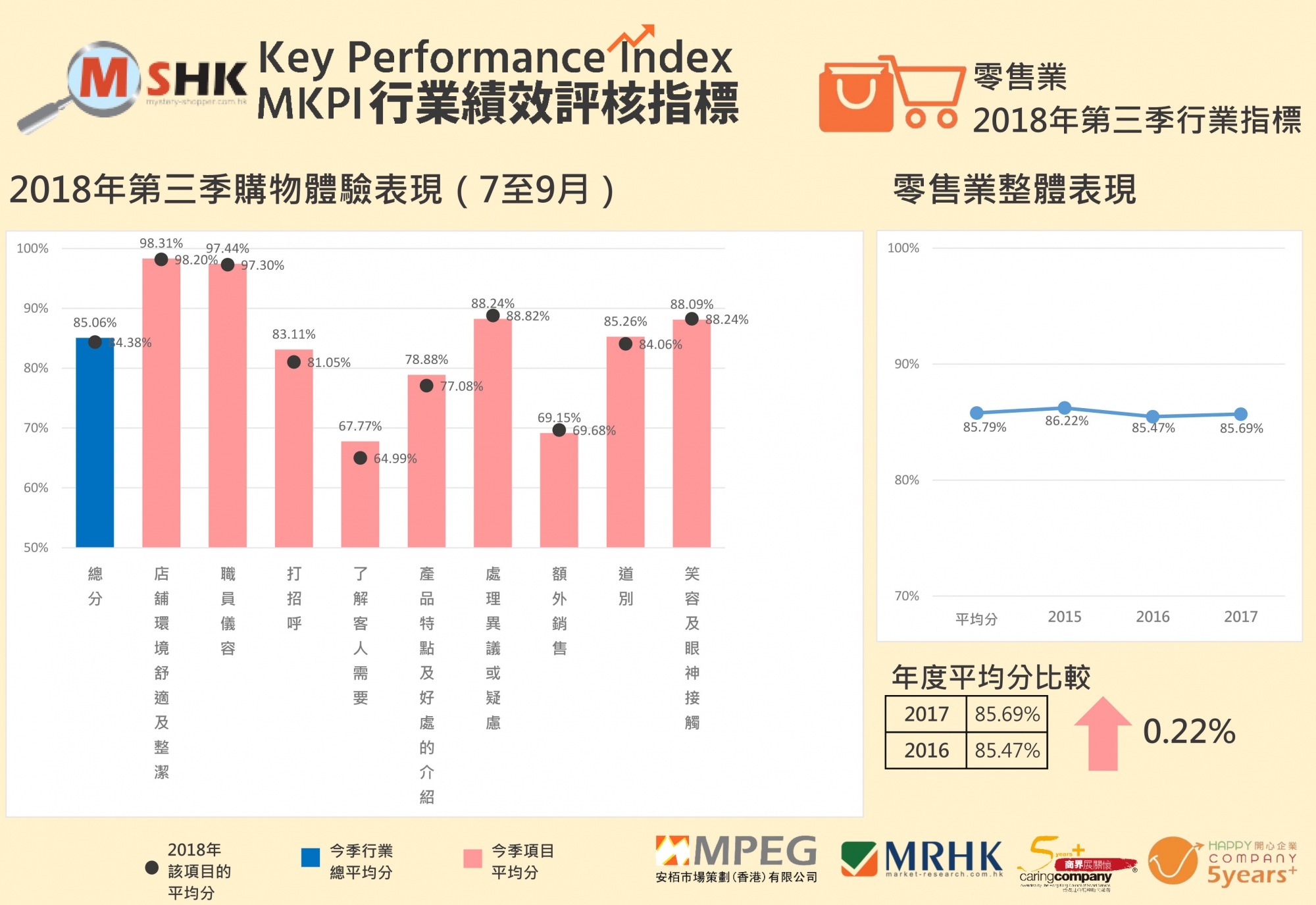 MKPI零售業時尚服裝整體表現
MKPI零售業珠寶鐘錶整體表現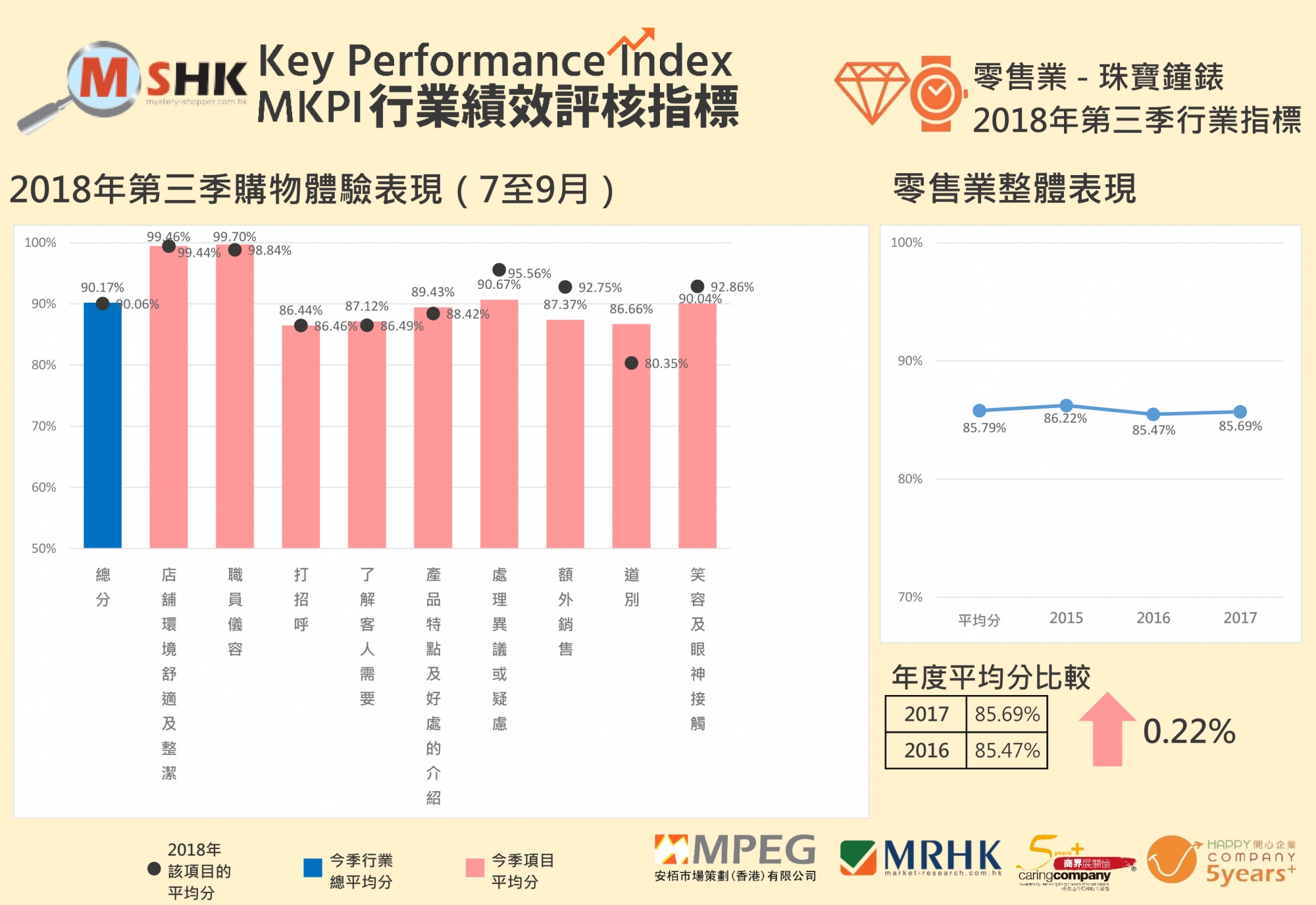 MKPI 零售業電訊及電子器產品整體表現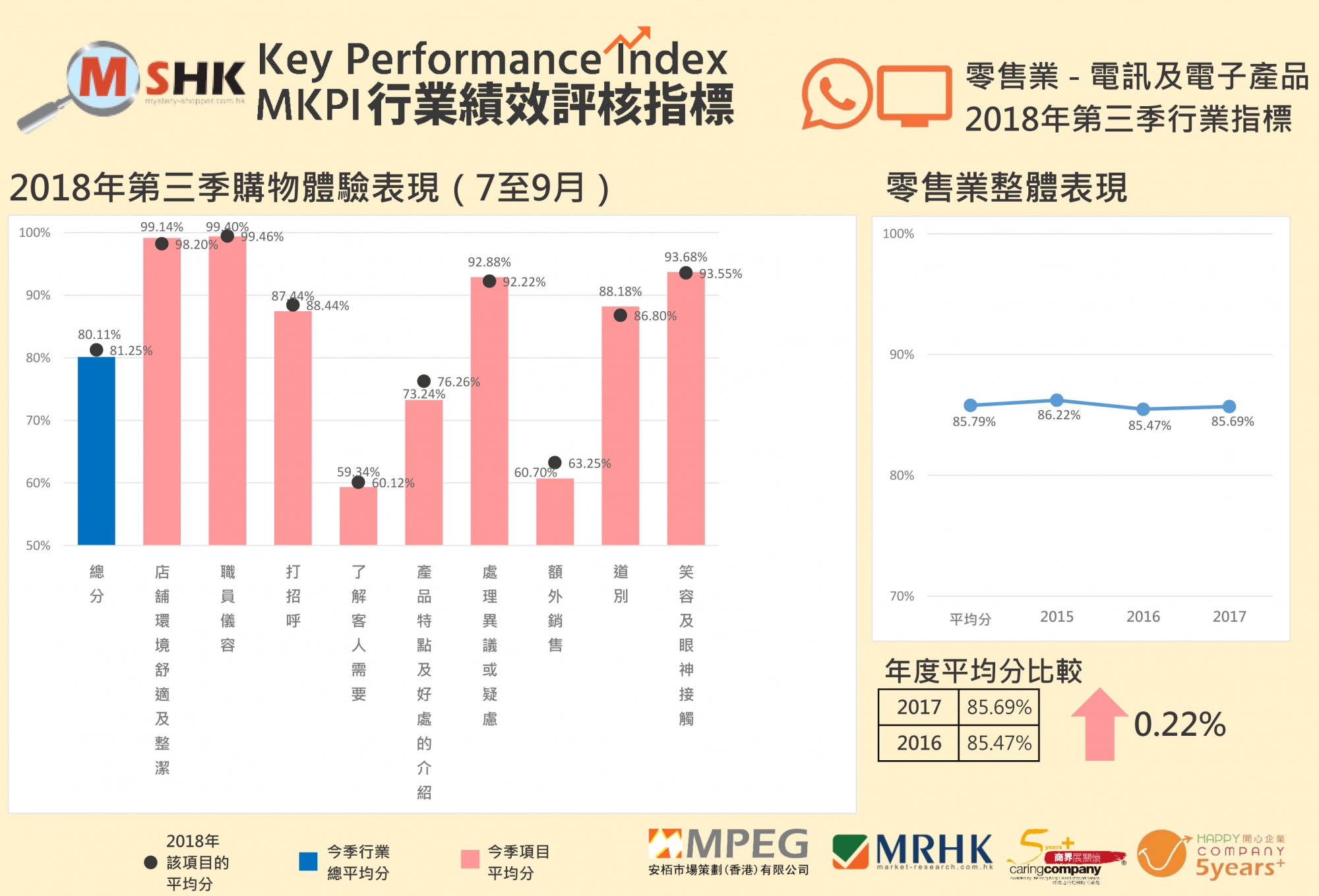 MKPI 服務業整體表現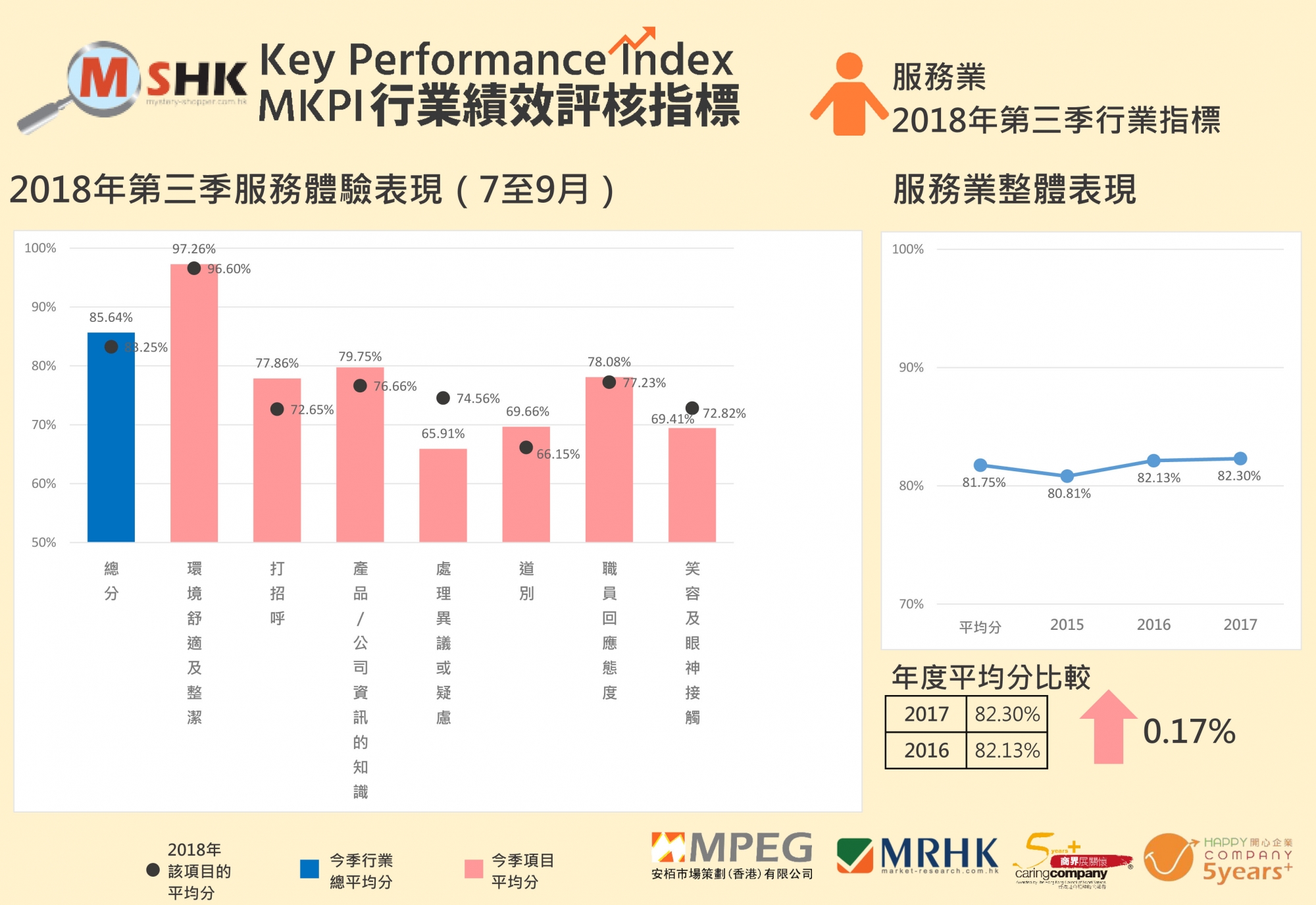 22-08-2018
2018年第二季MKPI行業積效評核指標

MKPI (MSHK Key Performance Index) 由MPEG (HK) Limited旗下神秘顧客評核服務供應商MSHK開發,目的是為各企業訂立行業服務指標。
MKPI 餐飲業整體表現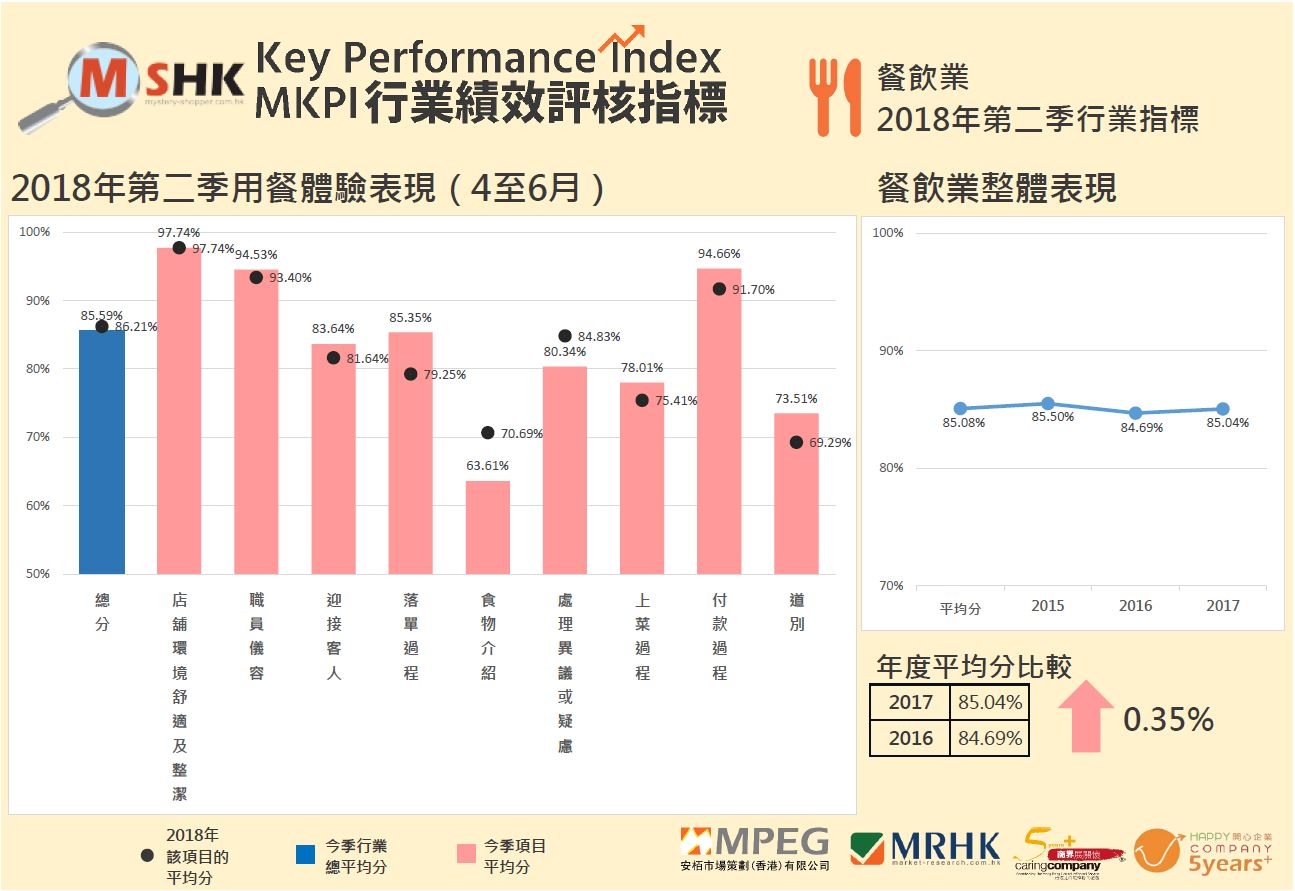 MKPI 零售業整體表現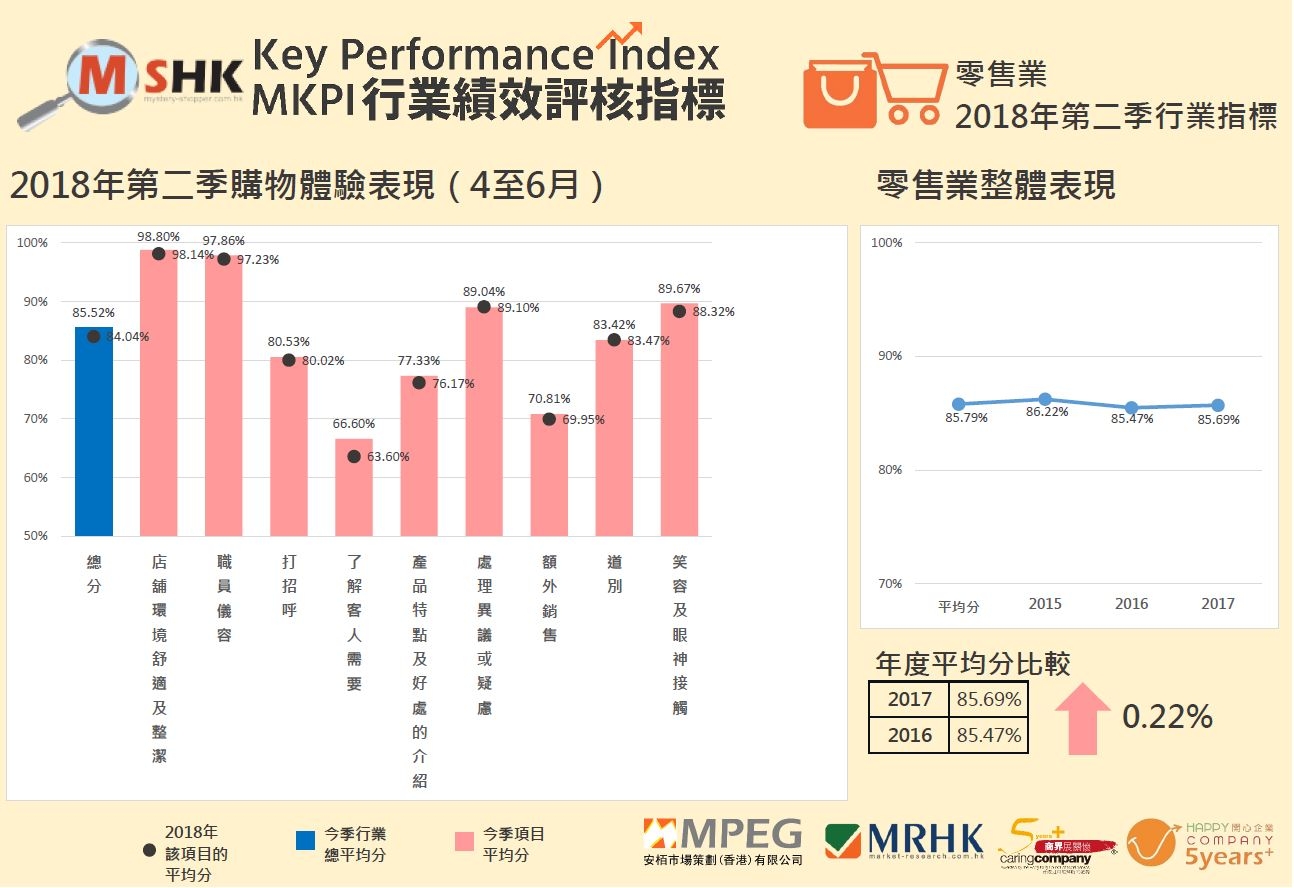 MKPI零售業時尚服裝整體表現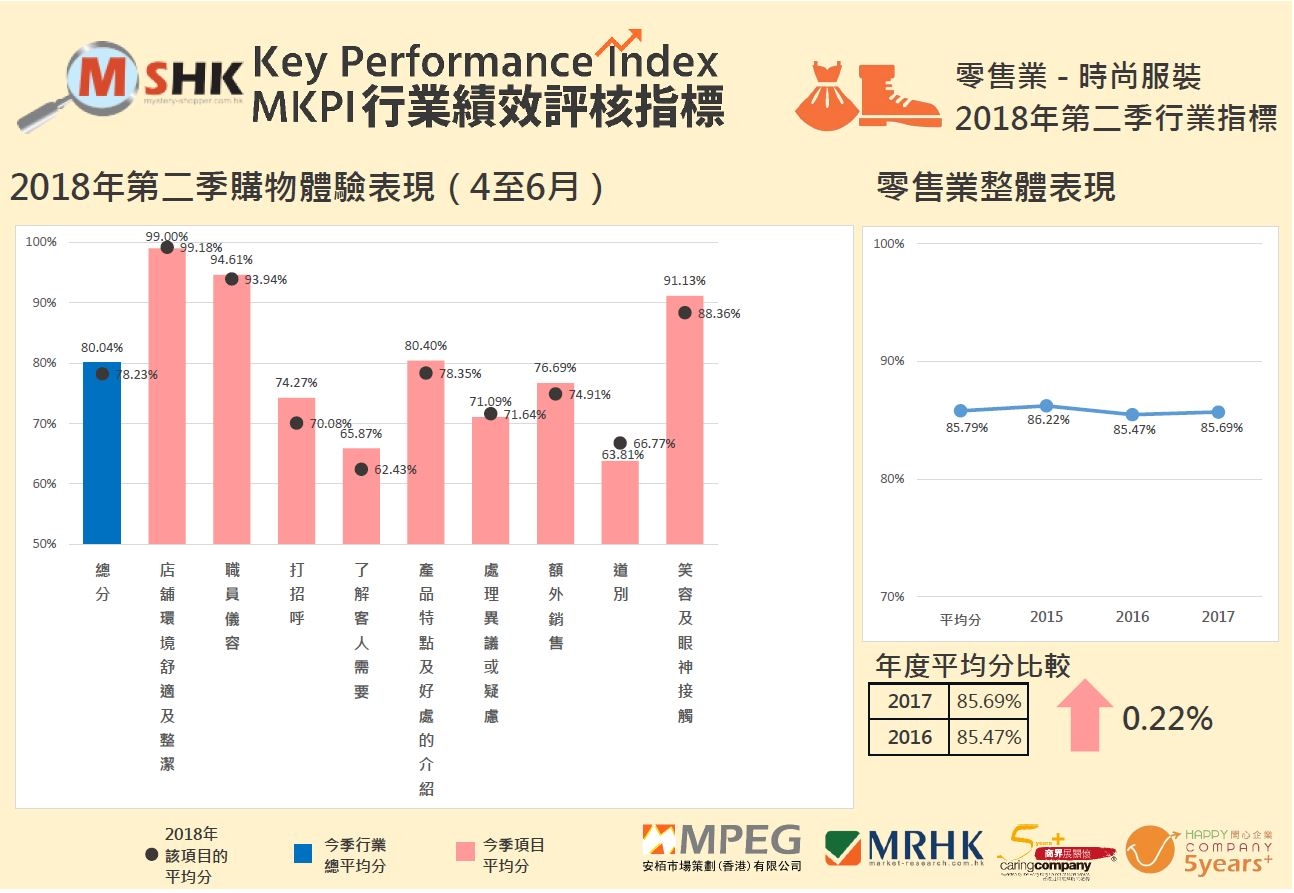 MKPI零售業珠寶鐘錶整體表現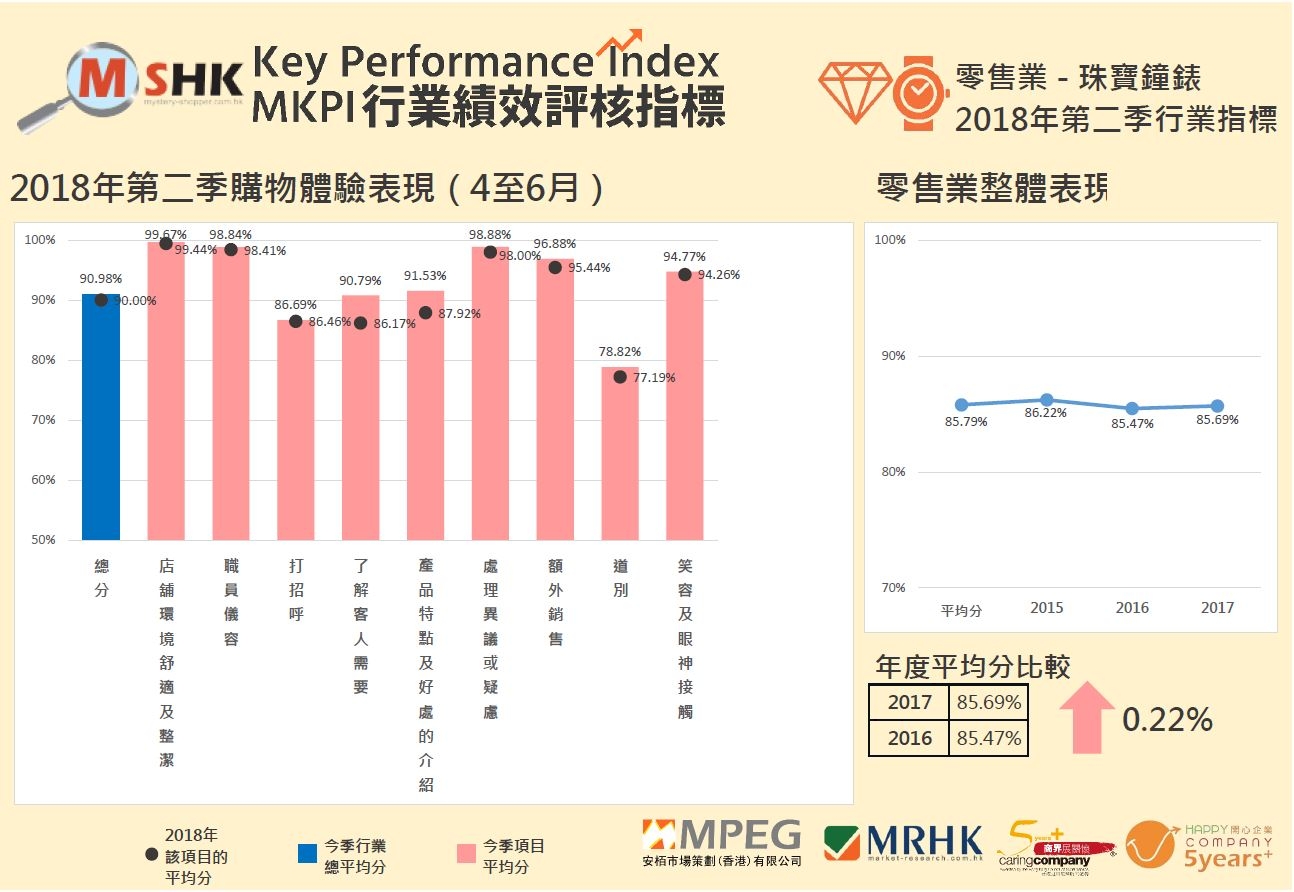 MKPI 零售業電訊及電子器產品整體表現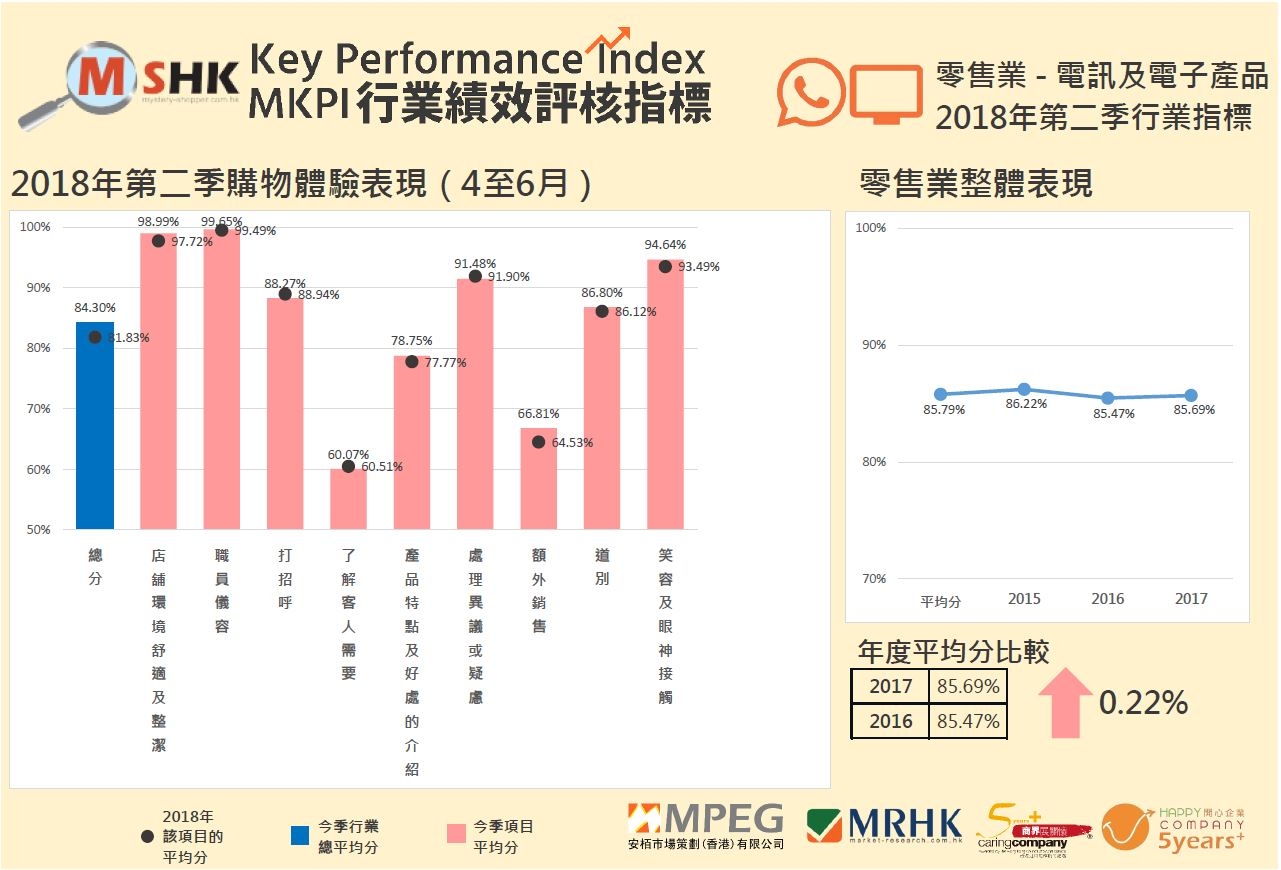 MKPI 服務業整體表現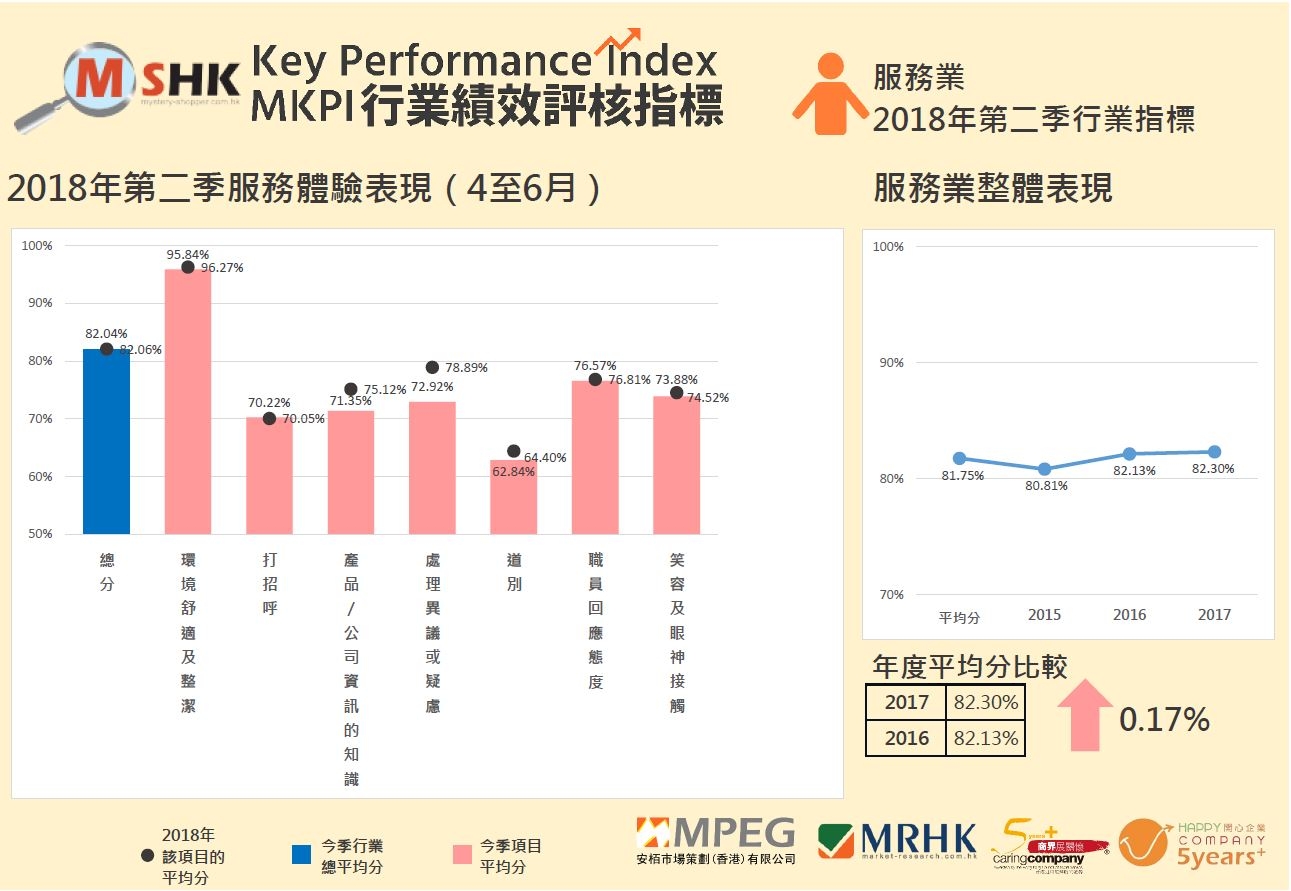 14-06-2018
本公司獲得香港提升快樂指數基金授權使用「開心企業5+」標誌
MPEG (HK)Limited 獲頒發「開心企業5+」。
恭喜MPEG (安栢市場策劃(香港)有限公司) 連續五年獲頒「開心工作間」推廣計劃之「開心工作間」標誌,並獲得香港提升快樂指數基金授權使用「開心企業5+」標誌。
MPEG 一向視員工為重要資產,深信輕鬆愉快的工作環境能令員工開心,又能增加他們的工作效率及對公司的歸屬感。
「開心工作間」推廣計劃由香港提升快樂指數基金主辦,並由香港生產力促進局執行,宗旨在於提升香港企業及機構對「開心工作間」的認同感,促進各界攜手建設愉快的工作環境,共同提高香港人的工作快樂水平。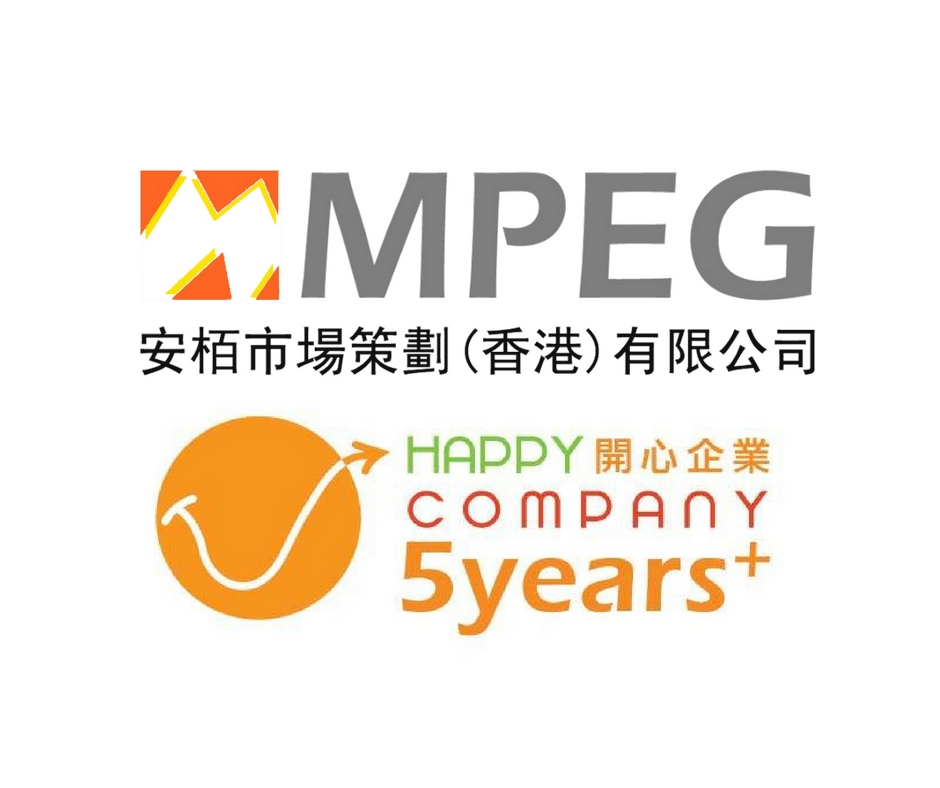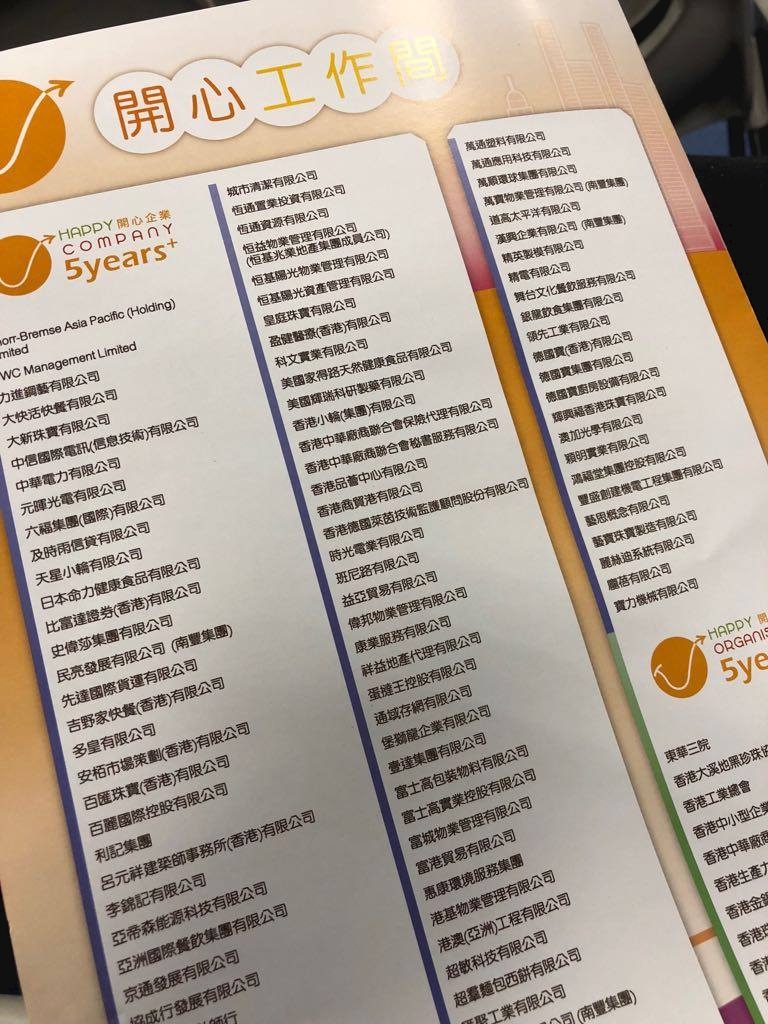 01-06-2017
本公司及神秘顧客接受JET Magazine訪問並刋登於其六月號刊物內
本公司及神秘顧客接受JET Magazine訪問並刋登於其六月號刊物內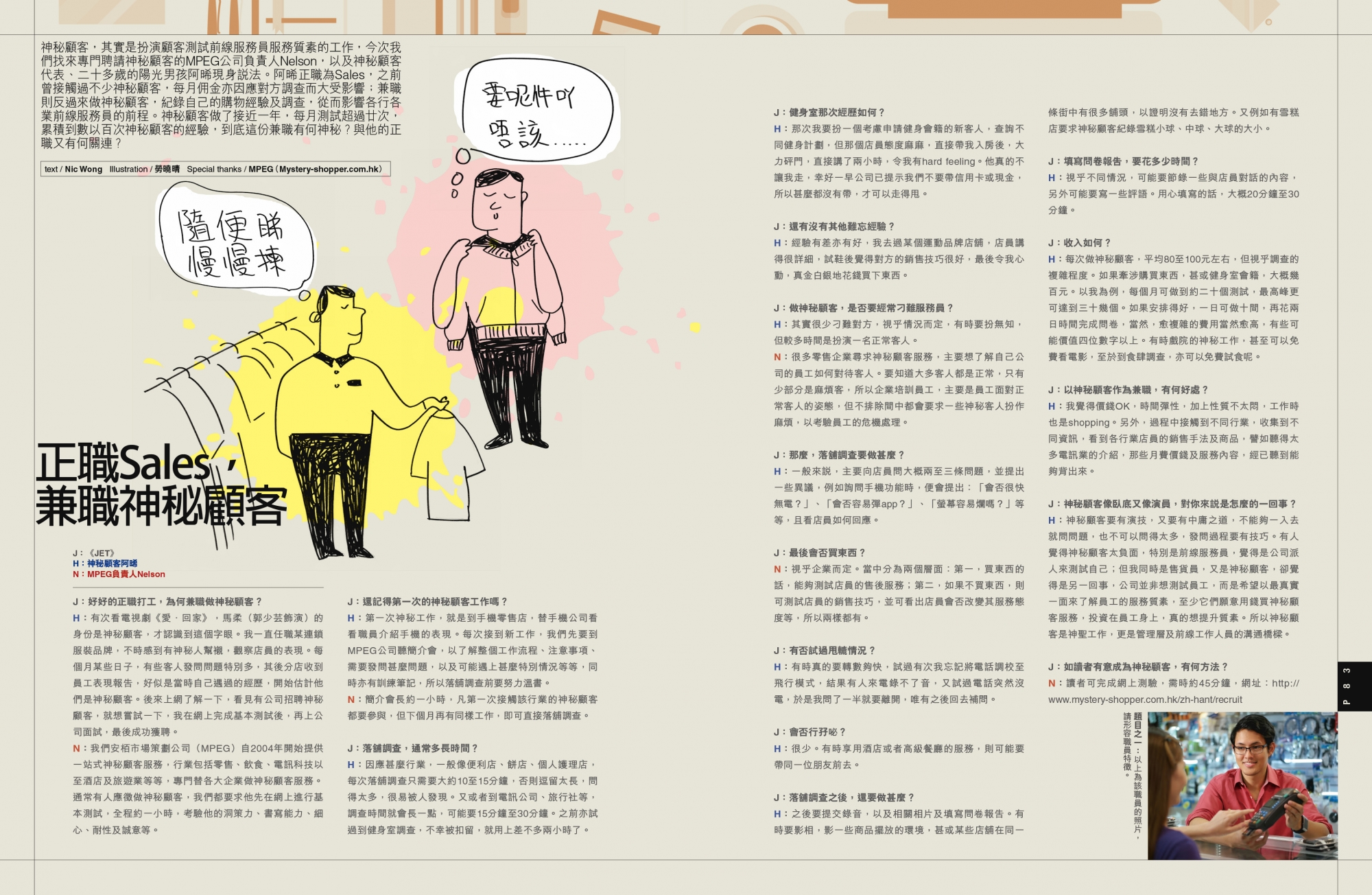 圖片來源: JET Magazine

15-05-2017
快樂指數基金和香港生產力促進局授與「開心工作間」推廣計劃2017
連續5年「開心工作間」推廣計劃2017 授與 安栢市場策劃(香港)有限公司 使用「開心工作間」標誌
快樂指數基金和香港生產力促進局授與安栢市場策劃(香港)有限公司 「開心工作間」標誌 以推動及鼓勵共同建設一個愉快的工作環境,提升香港人的工作快樂水平。(「開心工作間」推廣計劃2017)
以下證書於2017年5月由生產力促進局開心工作間『開心企業』頒發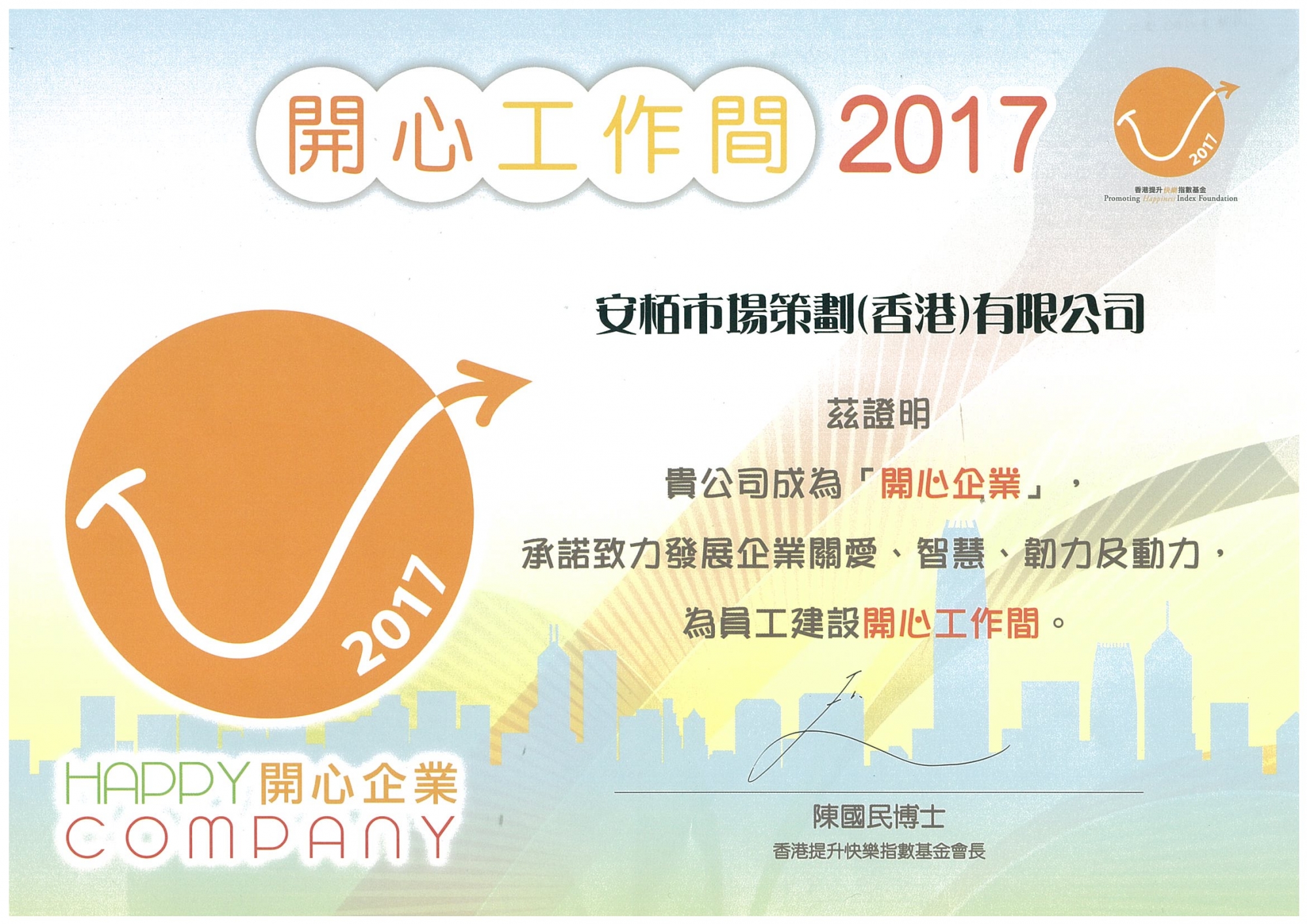 01-03-2017
獲頒發「商界展關懷」5年 PLUS 標誌 (2012 – 2017)
連續5年(2012 – 2017)獲得由香港社會服務聯會頒發的「商界展關懷」標誌,以表揚我們在回饋社會方面作出的努力。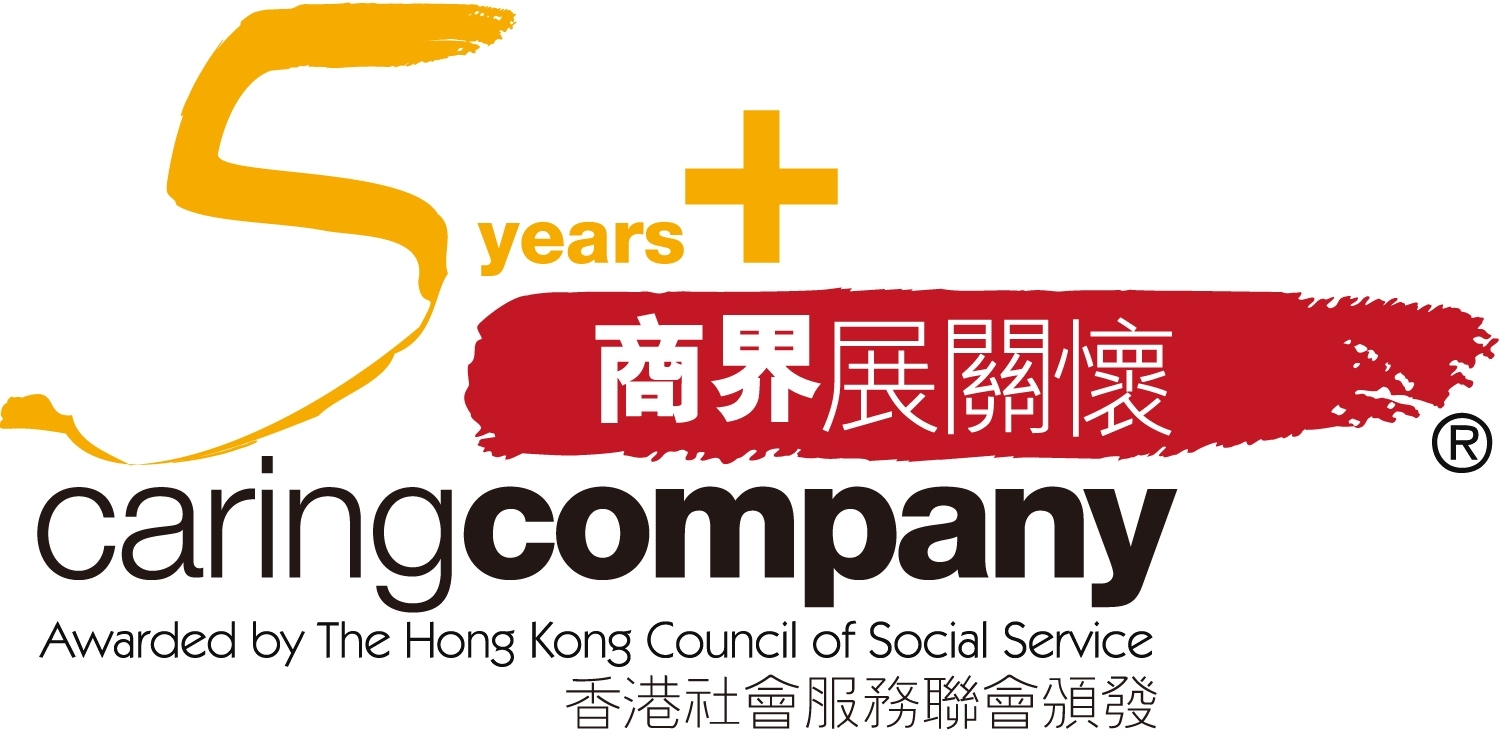 11-05-2016
商界展關懷 2015/2016 - MPEG(HK)Limited - 嘉許年份: 2012 - 2016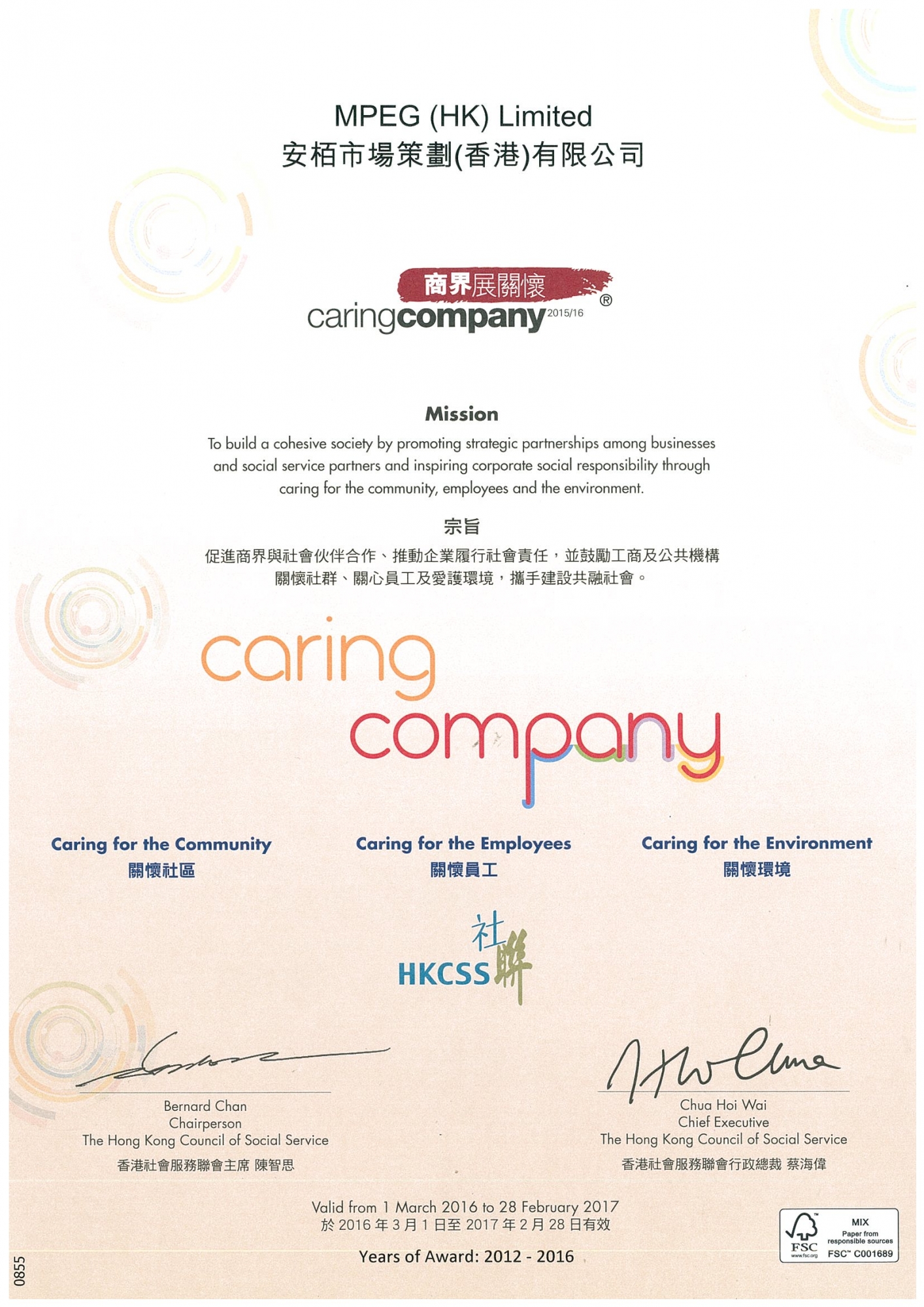 01-12-2014
香港中小型企業總商會授與 2014/15年度使用「友商有良」標誌 (連續兩年)
香港中小型企業總商會連續兩年授與安栢市場策劃(香港)有限公司為「友商有良」企業嘉許計劃獲嘉許的機構之一, 並授權安栢市場策劃(香港)有限公司於2014 / 15年度使用「友商有良」標誌。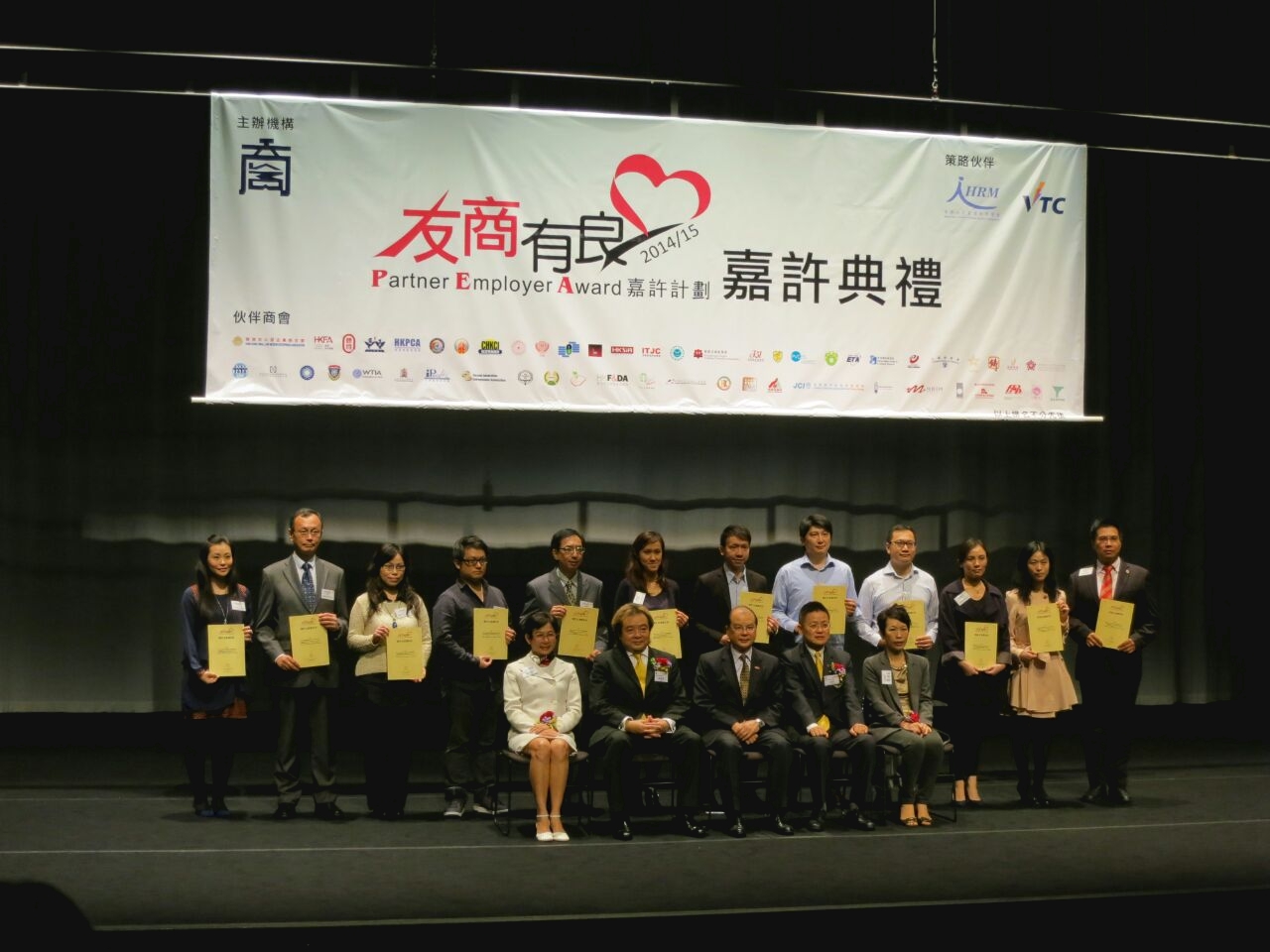 08-08-2014
"No Shark Fin"Policy - MPEG(HK)Limited
"No Shark Fin"Policy
MPEG(HK)Limited
Purpose
MPEG(HK)Limited recognizes the need for a policy to conserve the declining shark populations worldwide. Since most of the shark fin products currently available in the market are unsustainably produced, MPEG(HK)Limited is committed to stopping shark fins consumption. This policy demonstrates MPEG(HK)Limited's corporate responsible actions in ensuring our marine ecosystems are properly preserved and the long-term sustainable use of species is in place to protect these natural assets for our future.
Policy
- Shark fins shall not consumed at all company activities which are either organized or paid for by the company
- All company dining expenses shall be claimed together with either i) food menus ii) dining bills or iii) a written declaration to evidence that no shark fin is served/consumed in those meals.
- Shark fins shall not be consumed at any event or meal within MPEG(HK)Limited's premises.
- Shark fins consumption shall not be promoted under any circumstances.
- Shark fins must not be purchased or sold under any circumstances.
Administration Procedure
All departments under MPEG(HK)Limited are responsible for executing this policy and ensuring that necessary procedures are in place to implement this policy, and shall explain this policy to staff who is responsible for procurement or selections.
All departments under MPEG(HK)Limited shall ensure shark is not served in any restaurant or cafeteria within the company premises, and that the "no shark fins" policy should be made a required item in all company menus and catering contracts.
All departments under MPEG(HK)Limited is responsible for ensuring all marketing employees are aware of this policy when planning business promotions.
If a staff member fails to follow this policy, he or she must notify the reason for non-compliance when claiming relevant expense reimbursements. All department heads are authorized to all exemption from the policy on a case by case basis for specific considerations of business relationship with external parties or corporate image in particular social contexts. Such as exemption must be used sparingly and should not be applicable to any meal or function exclusively for staff of MPEG(HK)Limited.
The policy shall be documented on our official website to provide company staff an overview of MPEG(HK)Limited's commitment in ensuring a better future for our marine environment.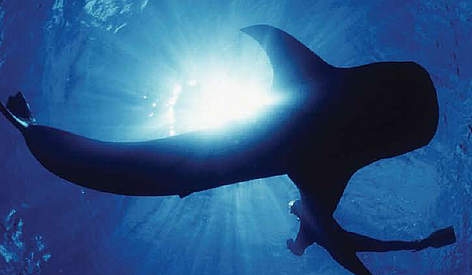 Website: (WWF Hong Kong)
http://www.wwf.org.hk/en/whatwedo/footprint/seafood/sharkfin_initiative/companies_say_no_to_shark_fin/

01-06-2014
Result Notification of the Caring Company Logo 2013/14...
Result Notification of the Caring Company Logo 2013/14
The Hong Kong Council of Social Service awards the Caring Company Logo to MPEG (HK) Ltd. in recognition of your commitment in Caring for the Community, Caring for the Employees and Caring for the Environment over 2013/14.
Logo can be used from 1 March 2014 to 28 February 2015.